The Cookie Challenge
Great American Cookies saw an emerging opportunity to deliver their decadent delights directly to consumers in search of sweet treats. Some smaller cookie companies had already entered this space, but industry analysts were predicting substantial growth in cookie delivery sales. And the nation's largest retail cookie chain was well positioned to dominate the market.
Headquartered in Atlanta, Great American Cookies had the brand recognition that came with its nearly 300 U.S. franchised stores. They had a wide variety of popular recipes for cookies and other sweet bakery items. They had the production facilities and were building out a section for on-premise baking. (The facility had previously produced only raw cookie dough, which was then shipped to retail stores for baking.)
However, their existing sales, shipping, and inventory systems were all geared toward large-scale delivery of ingredients to franchise owners. They had no system in place to accept and fulfill direct consumer orders. And they didn't have an inventory management system suited to the dynamic production of cookies ordered, baked, and shipped out on the same day.
So they came to 3 Owl to develop an integrated e-commerce and inventory management platform, and to integrate it with their production facility's processes. They also needed a go-to-market strategy to drive traffic to the new e-commerce site in time for the holidays.
If they could launch in time to meet this demand, their direct-to-consumer delivery service could begin with a big boost in sales.
The holiday season was fast approaching, and they anticipated that gift-giving and celebrations would increase demand for cookie delivery. If they could launch in time to meet this demand, their direct-to-consumer delivery service could begin with a big boost in sales. We all agreed that the holidays were the best time to launch, and that we must move forward quickly to seize this opportunity.
Our first meeting with Great American Cookies was in September, and they challenged us to complete the project in 10 weeks. It was an aggressive timeline. Not quite as hard as delivering presents to all the children of the world in one night, but we knew we'd have to do everything right. If we failed, it might become the Christmas without cookies.
We couldn't let that happen, so we took a deep breath and started drafting a plan. A plan to deliver cookies in time for the holidays. A plan to save Christmas.
The Sweet Solution
We knew going in that there would be no time for wrong choices or mistakes. We had to move quickly, but we had to be smart about it. So we planned out a detailed timeline, with well coordinated work proceeding in parallel. In close consultation with GFG Management (Great American Cookies' parent company), we mapped how our agency work would integrate with their delivery service rollout plans, and how our two teams would collaborate. It was a plan that, we all agreed, could get us to launch in 10 weeks… but we had to do it right every step of the way.
The internal team at GFG Management was right there beside us from day one. Marketing, production, and financial teams all rallied to support us with the critical information, expedited decisions, and resources we needed to succeed.
Here's how the project unfolded:
Planning & Research
We spent the first week in research and discovery, and in an accelerated process of bringing all parties into alignment on goals, operational needs, and creative vision. This culminated in a finalized creative brief.
Over a 72-hour period during this first week, we evaluated several inventory management systems. We selected Linnworks, which met all our criteria and had excellent reviews and references. In that window, we created a basic WooCommerce site and integrated Linnworks, then ran a few test orders. Everything worked flawlessly, so we finalized the choice.
We also created a detailed data flow document, mapping out our integration of WooCommerce, Linnworks, the production facilities, FedEx, and the main Great American Cookies website.
A flawless flow of data demanded a well-designed information architecture. We identified all fields that we needed to capture on both the e-commerce and inventory management sides. And we mapped out all the relations between them.
With the information architecture finalized, we wireframed all e-commerce pages and mailers.
We also produced a shot list and planned a photo shoot. These included product photos for the e-commerce site and marketing photos for social and display campaigns planned for the launch.
Design
Our designers got to work designing the desktop versions of all e-commerce pages, guided by the creative brief finalized in week one. Meanwhile, our developers built out the backend of a new WooCommerce site to match the approved wireframes.
Meanwhile, our art director oversaw the photoshoot for all the marketing and product photos.
With desktop design complete, our designers created all mobile distinctions for all e-commerce pages and designed all planned order and delivery mailers.
We edited all photos for both e-commerce and marketing and we ran some preliminary test orders through the WooCommerce backend.

Development & Testing
With the backend working well and all pages designed for desktop and mobile, we developed the new website frontend.
Our developers connected Linnworks to the FedEx API and built out all shipping logic. We also developed all planned order and delivery mailers, based on the designs created in week five.
We did a walkthrough of Great American Cookies' production facility to better understand their logistical needs.
Yes, it smelled amazing. If Santa Claus has a bakery, it probably smells like that.
We also ran test orders on a now fully functional site, with Linnworks integration complete to handle fulfillment, and FedEx ready to handle delivery.
Cookie Break
About those test orders…
To run a fully valid test, we had to order some cookies. And verify that they were delivered. And that they were delicious.
So we ordered some delivered to the 3 Owl offices. Confirmed: they were delicious.
And because we wanted to test out-of-state sales tax calculation and delivery across state lines, our managing director, David Feldman, sent some cookies to his parents in South Carolina. His parents were reportedly delighted to accept the cookies as payment for their quality assurance testing services.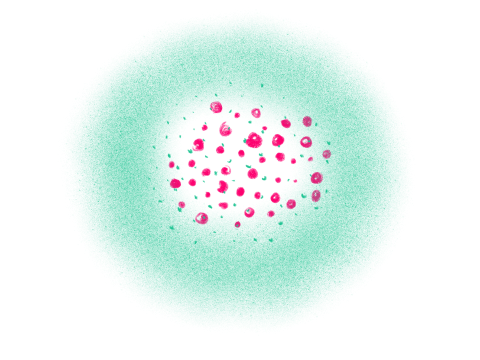 Launch
We soft launched the site, ran extensive testing — yes, more cookies delivered! — and optimized the site for customer experience and SEO.
Four weeks prior to Thanksgiving and with two months to go before Christmas, the new Great American Cookies site went live.
We also launched the marketing campaign, including social, paid search, and banners on their main site. We let the world know that, just in time for the holidays, they could order Great American Cookies delivered to their doors.
A Great American Cookie Christmas
The integrated e-commerce and inventory management ecosystem is working flawlessly.
In the first three weeks since launch, orders have come in from 25 states across the country, and e-commerce sales have increased an average 50% each week.
Great American Cookies has kept busy baking all the ordered cookies, but their hard work is supported by digital system integration that handles orders, email confirmations, inventory, and delivery. The production facility also receives instant and actionable intelligence to inform their daily baking choices.
"The 3 Owl team was extremely knowledgeable to help us bring this project to fruition. They were able to help us coordinate multiple vendors and lots of moving parts in a short amount of time to help us launch a new e-commerce platform on schedule. I'm proud of the work our internal team and 3 Owl dedicated to this project and excited to see the impact it will have on the future of our brand."

Lisa Cheatham
Vice President, Growth Marketing at Great American Cookies
Two months after we started from scratch, Great American Cookies is poised to be a major player in the growing cookie delivery marketplace. And their cookies are, right now, flying through the skies, making their way to customers' family and friends, to their holiday party tables, or to their own homes to enjoy with hot cocoa… or to leave under the Christmas tree with a glass of milk.
And that's how 3 Owl saved Christmas.