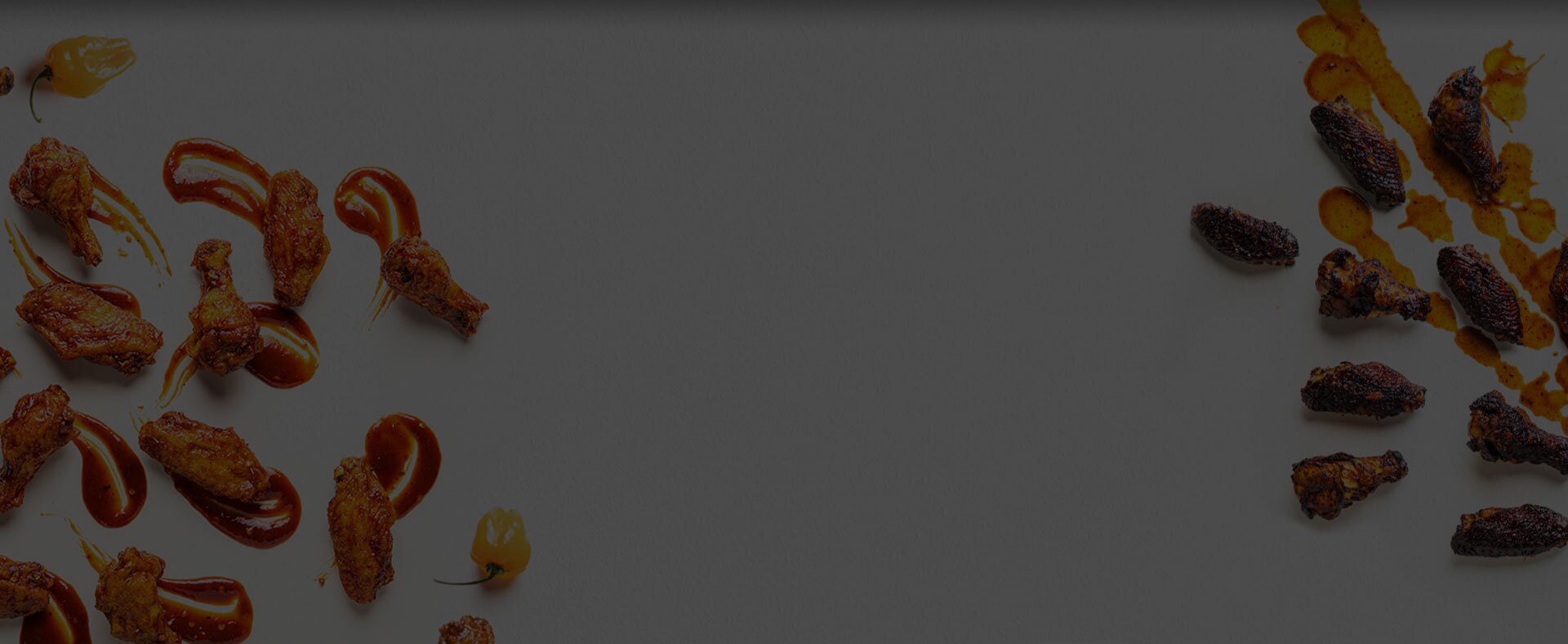 Taco Mac
How can a restaurant chain tell a consistent brand story across all platforms while increasing conversions?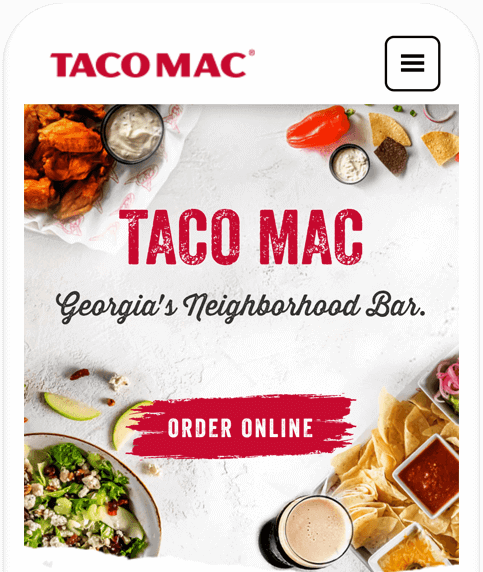 After more than four decades of serving up the best wings and beer around Atlanta, Taco Mac was ready for a confident, consistent voice for their brand, and improved integrations to increase online ordering and overall optimization.
We have implemented a number of creative and tech solutions for Taco Mac to solidify their voice and improve their online presence and ordering experience. Our relationship with the brand is ongoing and constantly growing and evolving. Check out some of the work below!
50%
Increase in Online Orders
130% Increase
In Online Order Conversion Rate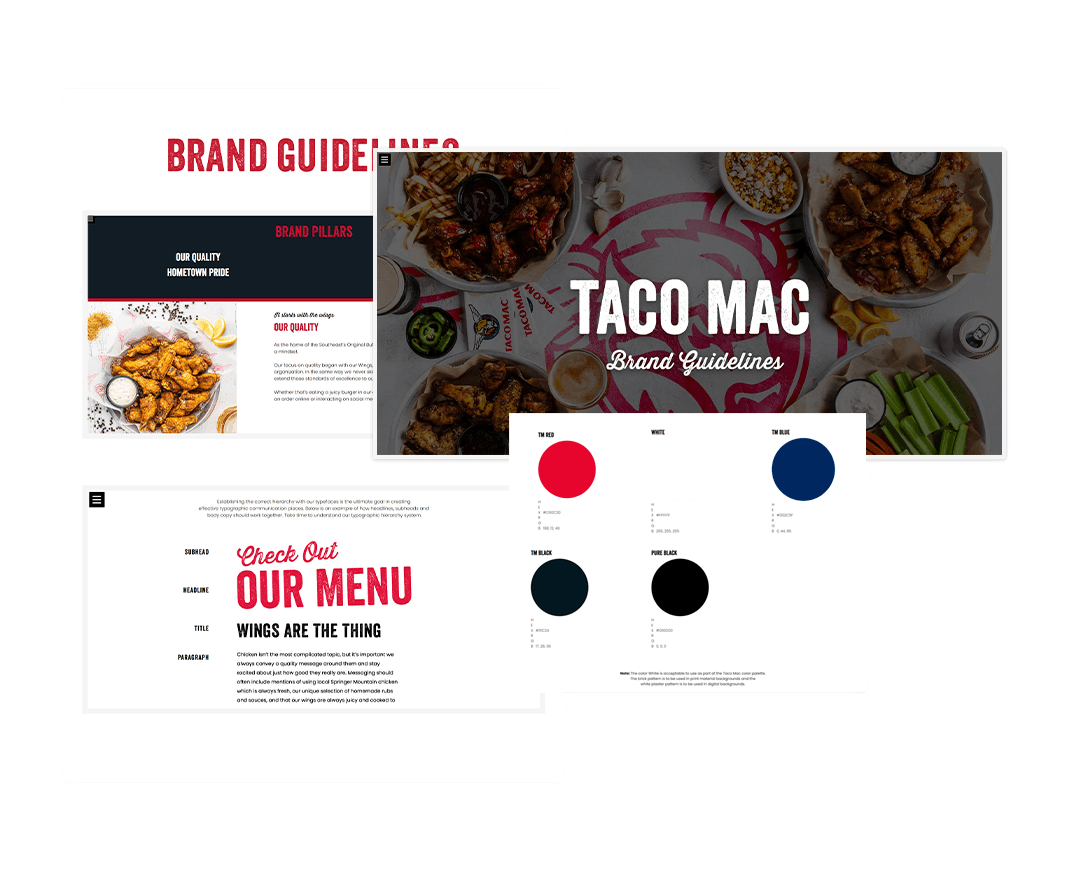 Extensive Web-Based Brand Guidelines
As one of Atlanta's best recognized restaurants, Taco Mac needed consistency across their many touchpoints around the city and online. We created an extensive set of easily implemented brand guidelines to keep both visual and written representations of the brand on tone and uniform.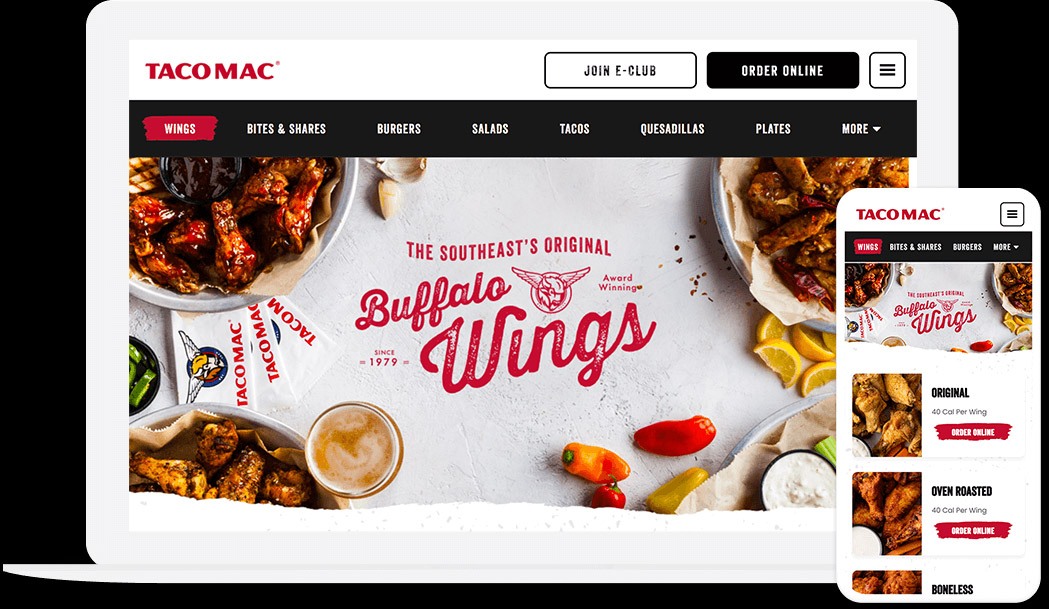 Conversion Driven Food Menu
Using Google Optimize, our team designed a new mobile menu and compared sales using an A/B test. Our new menu design saw a sales conversion increase of 40% and continues to be optimized on a regular basis.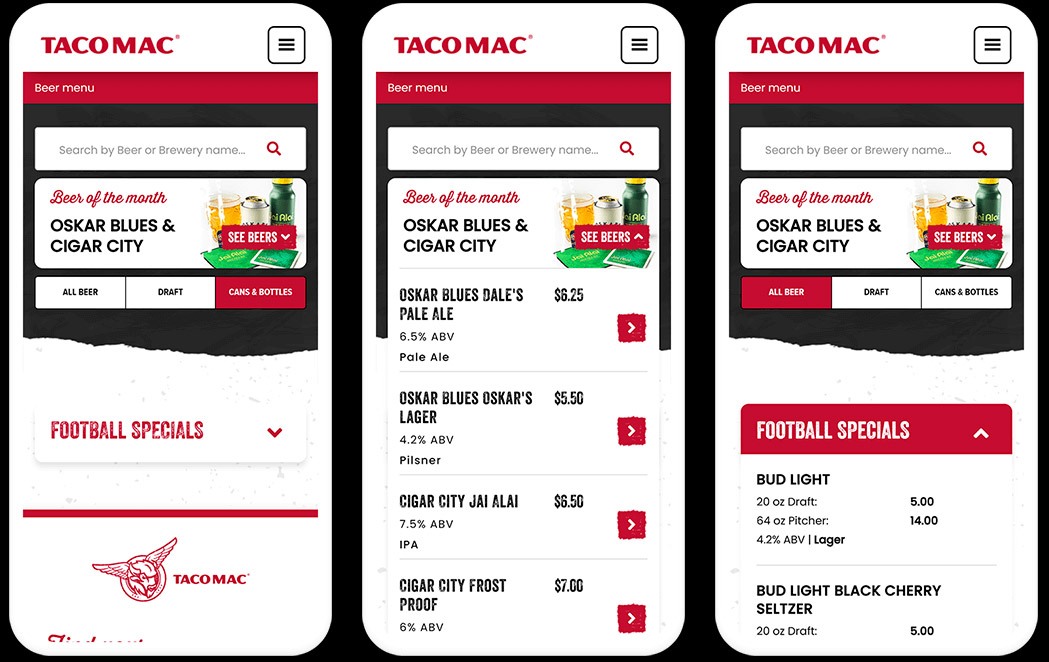 API Integrated Beer Menu
Our team pulled data from Taco Mac's beer database to show all beers in real time by location. This has translated into a best-in-class mobile beer menu which includes freshly tapped beers, best sellers, and seasonals appearing in real time on the site.
photography
We've established a photography style for Taco Mac which takes their signature dish, wings, and elevates them to show off their beautiful colors and details. We've art directed numerous shoots to create a significant content library of beautiful food shots used across brand touchpoints.
3 Owl's work is always up to par. Their responsiveness and tenacity really stand out. Everything they do has a great level of quality to it and they make sure they get to know the client and the brand. They really deliver great work. Project management is one of their strengths. They break everything out in terms of key milestones and deliverables and everything is very organized. They've met every deadline that they committed to.
What We Did

Strategy
Brand Strategy
Social Media Strategy
Menu Strategy

Interface Design
Website Design
QR Beer Menu Design
QR In-Store Menu Design

Branding
Visual Identity
Copywriting
Art Direction/Photography
Brand Guidelines Website

Development
Custom WordPress Development
Multiple API Integrations
Google Tag Manager